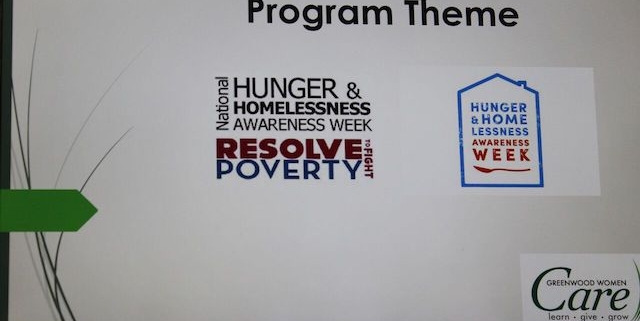 The 4th Quarterly Meeting of Greenwood Women Care was held on Tuesday, November 13, at the Rivers Street extension of St. Mark Methodist Church. Fall desserts and beverages were arranged by the Social Committee. Lisa Smith, a member of the Programs & Education Committee, welcomed everyone and introduced our program, "Homelessness and Hunger in Our Hometown", featuring Ken Kelly, Operations Officer and past Executive Director, and Anthony Price, Executive Director of Greenwood Pathway House, and Wendi Andrews, Executive Director of the Food Bank of Greenwood County.
Anne Craig, Alison Fletcher, and Angelle LaBorde presented reports for the Grants Review & Awards and Governance & Finance Committees. Boo Ramage spoke about the purpose of the GWC Endowment, a fund created with a portion of each membership contribution and signifying a commitment to the future of GWC.
Summer Booker of the Membership Committee reported that 28 of our 104 Charter Member have already renewed and 8 new members have joined GWC for 2019.
This gathering was attended by 50 members and 10 guests.
https://www.greenwoodcf.org/wp-content/uploads/2018/11/Program-theme.jpg
427
640
Mary Woodiwiss
https://www.greenwoodcf.org/wp-content/uploads/2016/11/gccf-logo-800.png
Mary Woodiwiss
2018-11-24 11:09:37
2019-03-09 09:09:33
GWC 4th Quarterly Meeting, November 13, 2018, at St. Mark UMC