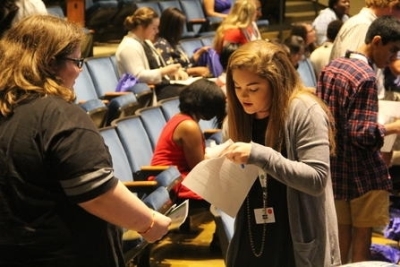 Conference prepares students for success after high school
This originally appeared in the Index-Journal.
At 33 years old, Chad Foster sold a business he started as a young adult that turned recycled tires into a soft playground surface, which make up the floors of McDonald's Playlands around the world.
The Louisiana native spoke to public and private high school students at Lander University on Wednesday about his experience, and how after selling his business at age 33, he had no idea what to do with his life.
"When it happened, I wasn't very old. I was only 33 years old, and so I wasn't sure what to do next, because if all of a sudden at 33 you look in the mirror one day and you say, 'OK, now what do I do?' That's not an easy decision to make," Foster said.
Foster told the students he decided to drive across the country for two years and ask the most successful people he could find what skills they had that made them successful.
About 85 public and private school students in Greenwood County attended the first South Carolina Student Leadership Conference where Foster spoke.
Foster told the students there are four things successful people have in common — passion for their dreams, good communication skills, the ability to get along with people and experience working a part-time job as a teenager.
"When you work part time at your age, you get to meet difficult people, you find yourself in unpleasant situations, you've got a boss who's an idiot (and) you deal with people who are uncomfortable to be around, and that is incredibly valuable training for you," Foster said. "Seventy percent of all people out there who lose or quit their job do so for one reason… because they can't get along with people."
Angelle LaBorde, president and CEO of the Greenwood Chamber of Commerce, said the Chamber was able to put on the conference because of a grant from the Greenwood County Community Foundation, as well as with help from a host of sponsors.
LaBorde said the intent of the conference was to provide leadership training to high school students because there is a void of programs in the county doing that.
"The purpose of our conference is to offer 21st century leadership skills to Greenwood County high school 10th-, 11th- and 12th-graders so they can be productive in college and in their future careers," LaBorde said.
The idea for the conference stemmed from a lack of leadership development opportunities for youth in the community after the chamber's BRIDGES program ended in 2007. BRIDGES was an after-school program that got students involved with businesses and agencies in Greenwood.
Jeff Smith, president of the Greenwood County Community Foundation, said his organization has four grant cycles annually and one of them involved youth and education.
"We feel like it's important that we, as a community, raise up students as young future leaders and sort of expose them early to other leaders and some of the expectations, I guess you would say, of leadership," Smith said.
Justin Alford, a 10th-grader from Ninety Six High School, said he will take the information he learned at the conference back home with him.
"I like how he told us how successful people think, what we need to be working on and things we can be working on to become successful," Alford said. "It's been very interesting in helping me learn more about what I need to be doing, kind of directing me towards college and after."
Students also attended breakout sessions that focused on interviewing skills, career goals and being finance savvy.
LaBorde said the chamber plans to make the conference an annual event, and Foster said it was one of the most organized conferences in which he has participated.
"Unfortunately, many of these skills are no longer learned at home, and so the environment now shifts to the business community and schools to teach young people workplace skills," Foster said. "They're going to work, they need workplace skills, and if they don't learn them and then practice them — which is just as important — then they don't improve."
Students in attendance received business cards from community leaders and a free copy of one of Foster's book, "Financial Literacy for Teens."
Foster, now 51, wrote three books aimed at helping teenagers with their future careers along with a textbook he co-authored titled "High School 101." He hosted his own television show on ESPN, "Fly Fishing America" and now travels the country speaking to students.
"I have always believed that if you know something or learn something or understand something, then you have an obligation to share that knowledge, especially with young people," Foster said. "And often, what someone has to share is not something that might be learned in the classroom."
https://www.greenwoodcf.org/wp-content/uploads/2016/12/conference-prepares-students-for-success.jpg
267
400
ajdesignco
https://www.greenwoodcf.org/wp-content/uploads/2016/11/gccf-logo-800.png
ajdesignco
2016-09-30 16:30:18
2020-06-22 13:43:12
Conference prepares students for success after high school