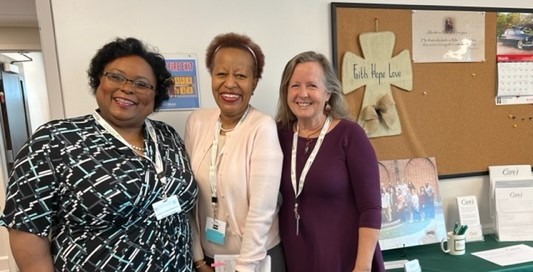 GWC Presentation at Women's Leadership Upstate Conference, March 25, 2022
Edris Louise Robinson and Mary Woodiwiss, GWC Advisory Board Members, presented a workshop session on Greenwood Women Care at the Women's Leadership Upstate Conference on Friday, March 25th, planned by the Women's Leadership Council (WLC) of the Greenwood Chamber of Commerce. Edris Louise serves as Chair of our Programs & Education Committee, and Mary serves as Chair of our Advisory Board and is also an active member of the Grants Review & Awards and Membership Committees. Their session was entitled "Learn · Give · Grow: Connecting with Your Community through Women's Collective Giving".
Debra Coleman, active member of the GWC Communications Committee and WLC Conference Committee member, introduced Mary and Edris Louise. A GWC PowerPoint and video enhanced  their presentation. About 35 women attended the workshop, including Debra, Rachel Strayer, Andrea White, and Alison Fletcher, GWC members.
We are grateful for every opportunity to spread the word about how GWC enriches our community and each of our members!
https://www.greenwoodcf.org/wp-content/uploads/2022/03/Edris-Louise-Debra-Mary-cropped.jpg
272
533
Mary Woodiwiss
https://www.greenwoodcf.org/wp-content/uploads/2016/11/gccf-logo-800.png
Mary Woodiwiss
2022-03-27 12:43:39
2022-03-27 12:43:31
GWC Presentation at Women's Leadership Upstate Conference, March 25, 2022