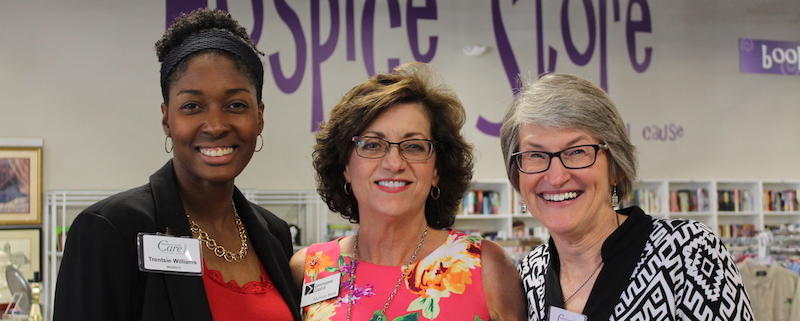 The GWC Quarterly Meeting on May 13th, "Getting Your Ducks in A Row", was generously hosted by The Hospice Store. Delightful spring refreshments were served and GWC Members and guests were treated to a time of socializing and shopping. The Hospice Store has something for everyone!
Nancy Corley, Chief Executive Officer of Hospice and Palliative Care of the Piedmont, gave a very informative talk about the history and purpose of Hospice, the Hospice House, and the new Palliative Care Center. Nancy encouraged GWC Members to make advanced directive plans to designate a Healthcare Power of Attorney and to make your wishes known to her or him.
The Hon. Travis Moore, Probate Judge, Greenwood County, spoke about dealing with estates, guardianship, mental illness/chemical dependency, and marriage licenses. Some of his advice was to ensure that you have a will and make determinations about your property in advance of critical health needs or end of life.
Melissa Bane, Senior Private Client Advisor of Greenwood Capital, also strongly encouraged us to speak to loved ones about our wishes and to inform them of the location of original wills as well as providing them with copies of this and other essential documents. She urged Members to review beneficiaries on insurance documents and to make sure that joint property is titled with both spouses' name.
Thanks to all three speakers for sobering but very relevant information! The Meeting was attended by more than 50 of our Members and numerous guests. Those who weren't able to attend missed out on great information!
Our next GWC Quarterly Meeting is scheduled for Tuesday, August 20th at the United Center for Community Care.
https://www.greenwoodcf.org/wp-content/uploads/2019/05/Trentsie-Melissa-and-Boo.jpg
533
800
Mary Woodiwiss
https://www.greenwoodcf.org/wp-content/uploads/2016/11/gccf-logo-800.png
Mary Woodiwiss
2019-05-24 13:24:05
2019-05-24 15:52:21
GWC Quarterly Meeting, May 13, 2019, at Hospice Store