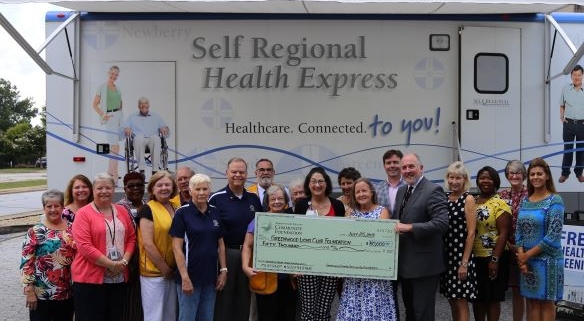 Innovation Grant Supports Community Impact, June 2019
In June, GCCF awarded its bi-annual Innovation Grant to substantially support a project with the promise of significant community impact.
The Greenwood Lions Club Foundation received $50,000 from GCCF for the development of a Mobile Diabetes Clinic that will bring professional services to areas of the county that are greatly underserved. Diabetes screening and education will be available as needed, free of charge, to all residents of Greenwood County. The Lions Club's proposal demonstrated well-developed collaboration with Self Regional Healthcare providers, local nonprofits offering medical services (such as Greater Greenwood United Ministry and Clinica Gratis), and a strong plan for implementation.
Phyllis Zuehlke, Lions Club Member who spearheaded this project, said, "[Greenwood Lions Club] wanted to expand our service projects into more areas than just vision. What better [related concern] than diabetes? The GCCF Innovation Grant was exactly what we needed. The Mobile Diabetes Clinic is a major project that will enrich the county and brings together many organizations that are striving for the same goals we have. People in our area desperately need identification of, education about, and care for diabetes. We can take our free clinic to community centers and rural areas and give not only screenings but also information about effective, healthy lifestyle changes and how their medical needs can best be met."
Clients who have not had a medical home, are impoverished, have little or no access to transportation and are uneducated about an improved and healthier lifestyle will be offered health consultations and be directed to other programs that can provide reduced cost or free services and medications.
The Foundation is pleased to provide for the development of such beneficial projects in our community!
https://www.greenwoodcf.org/wp-content/uploads/2020/03/GCCF-check-presentation-to-Greenwood-Lions-Club-Foundation-.jpg
428
584
Mary Woodiwiss
https://www.greenwoodcf.org/wp-content/uploads/2016/11/gccf-logo-800.png
Mary Woodiwiss
2019-07-07 16:21:05
2020-06-22 13:19:32
Innovation Grant Supports Community Impact, June 2019