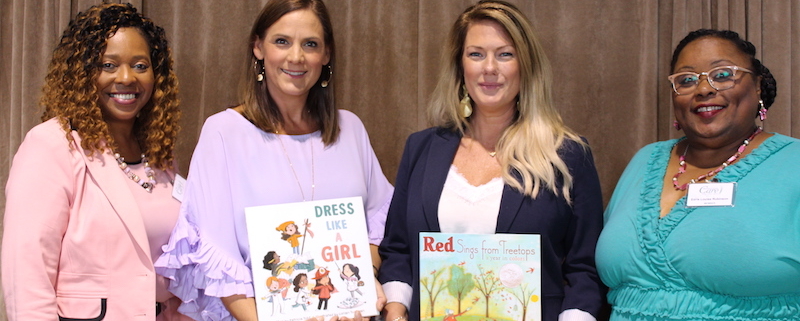 GWC Quarterly Meeting, "Back to School: Tools to Succeed", at The United Center for Community Care, August 20, 2019
The Quarterly Meeting for Greenwood Women Care was held on August 20th at the United Center for Community Care.  The delicious "back to school" refreshments and gymnasium setting certainly got GWC members in the mindset to learn more about the education programs that were presented.
Mary Woodiwiss, Co-Chair of GWC, reviewed the purpose of GWC and how contributions and membership dues are being used.  As of this meeting, we are now 124 members strong!
Louise Robinson introduced the program theme of "Back to School" and Deborah Parks from the United Center for Community Care welcomed us to UCCC and briefly discussed the 8 agencies that are housed in the building.
Guest speakers for the meeting were Katie Davenport and Laura Padgett. Katie Davenport is the Executive Director of Greenwood Promise. GWC Members are encouraged to look at the Greenwood Promise website for more information about how contributions from businesses and individuals help fund college for students in Greenwood who meet the criteria.
Laura Padgett presented a video and talked about the Thrift Shop at Emerald High School that is run by transitional students to provide work hours for career focused experiences.  Donations may be dropped off at the front office or Laura can be emailed.
Laura Bachinski, Co-Chair of GWC, offered closing comments about how to become a Member of GWC.
GWC donated two new children's books to the Greenwood County Public Library in honor of our speakers, each with a GWC bookplate naming the honoree and her organization.
Our next Quarterly meeting will be Monday, November 4th at the Arts Center. The 2019 GWC Grant recipients will present information about their GWC funded projects and programs. As always, guests are welcome!
https://www.greenwoodcf.org/wp-content/uploads/2019/08/IMG_3033.jpg
507
800
Mary Woodiwiss
https://www.greenwoodcf.org/wp-content/uploads/2016/11/gccf-logo-800.png
Mary Woodiwiss
2019-08-25 10:12:32
2022-03-25 17:17:56
GWC Quarterly Meeting, "Back to School: Tools to Succeed", at The United Center for Community Care, August 20, 2019