GWC Awards 1st Women's Health Grant to the GGUM Women's Clinic, April 20, 2021
We are pleased to announce the recipient of the first GWC Women's Health Grant! Greater Greenwood United Ministry (GGUM) has received $3250 in support of their newly established Women's Health Clinic.
The clinic opened in March 2021 to serve women who cannot afford health insurance and are not covered by Medicaid or Medicare. Dr. John Eichelberger and Dr. Julius (Jukie) Leary donate their time as medical providers. The clinic focuses on the prevention of cervical and breast cancer and addresses episodic health issues for women served to improve their overall quality of life.
The GWC Women's Health Grant was first offered this year. The grant supports holistic care and health education to improve the physical, mental, or social health and well-being of women in our community. It is funded by a field of interest fund endowed by Jim and Denise Medford and held by the Greenwood County Community Foundation. The award to the new GGUM Women's Health Clinic was finalized at the conclusion of an application process that required a letter of intent followed by a full application. The GWC Women's Health Grant will be offered again in 2023.
Members of this year's GWC Women's Health committee are: Anne Craig (Chair), Kelly Addy, Anit Vettukattil, Alice Hodges, Priya Kumar, Marilyn Murphy, Sally Kauffman, Sharlene Greene, and Mary Woodiwiss.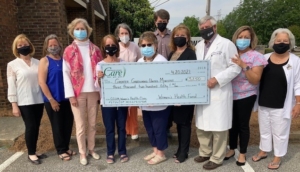 Pictured here are: Sharlene Greene, Mary Woodiwiss, Anne Craig, GWC Women's Health Grant committee; Brenda Milford, Medical Administrative Assistant; Donna Trapp, Medical Clinic and Pharmacy Coordinator; Rosemary Bell, GGUM Executive Director, Julius Leary, MD (OB-GYN); Edith Pineda, Patient Navigator; Gail Alison, LPN; (back row): Mary Lewis Hamrick, RN; Coleman Robinson, MD, GGUM Medical Director.
https://www.greenwoodcf.org/wp-content/uploads/2021/04/GWC-Womens-Health-Grant-award-photo-copy.jpg
284
772
Mary Woodiwiss
https://www.greenwoodcf.org/wp-content/uploads/2016/11/gccf-logo-800.png
Mary Woodiwiss
2021-04-20 17:41:02
2021-10-20 11:35:43
GWC Awards 1st Women's Health Grant to the GGUM Women's Clinic, April 20, 2021