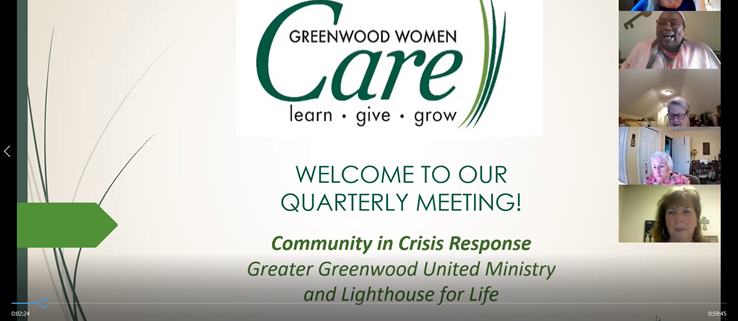 GWC Quarterly Meeting, "Community in Crisis Response", February 23, 2021
GWC's first Quarterly Meeting of 2021 convened with a warm welcome by Laura Bachinski, Co-Chair of the GWC Advisory Board. She stated that the focus of this Quarterly Meeting would be "Community in Crisis Response". Also, she noted that GWC is 115 Members strong and growing and welcomed our guests by name.
Edris Louise Robinson, Chair of the Programs & Education Committee, said that during our meeting we would have presentations from three spokespersons:  Rosemary Bell of Greater Greenwood United Ministry, and Vicki Jackson and Kim McIntyre of Lighthouse for Life. She gave a definition of crisis and expressed how any one of us may experience a crisis at one time of another.
Mamie Nicholson introduced Rosemary Bell, Executive Director of Greater Greenwood United Ministry (GGUM), noting that Rosemary has been involved with health care for a number of years and the Executive Director of GGUM for the last seven. Rosemary Bell discussed the origin of GGUM and how it has evolved. Since 1996, it has operated a free clinic serving uninsured community residents as their medical home. Currently, GGUM also has a pharmacy, provides financial assistance for utilities and rental eviction and financial counseling, offers dental screenings, and assists clients with some other dental treatments. And, with the assistance of the Greenwood and Mathews Lions Clubs, GGUM provides free eyeglasses.
GGUM was begun by the collaborative effort of many area churches and continues to receive support from multiple congregations.  Self Regional Healthcare is also a primary partner. GGUM has recently begun a monthly women's clinic with the services of retired OB-GYN physicians. The GGUM Crisis Ministry's activities for 2020 and 2021 included not only financial assistance for utilities and rental eviction, but also distribution of food and help with job searches. Rosemary ended with an uplifting anecdote about a resident who received life-changing services through the free clinic.
Carol Scales introduced the next two speakers: Vicki Jackson and Kim McIntyre (a minister), of Lighthouse for Life. Vicki Jackson gave a thorough explanation of Lighthouse for Life's work in helping victims of human trafficking become survivors. She enlightened us about various aspects of trafficking, e.g.., domestic servitude, forced begging, and meeting coercive sales quotas. She discussed how there are at least 40 million victims of human trafficking worldwide and how to be alert to the signs and red flags of trafficking in our own interactions. She also spoke of the objectification of women, citing examples from literature and last year's Super Bowl halftime show. She reminded us that boys could be victims, too. She noted how important it is to pay attention to the activities of young children you know and to believe them if they are brave enough to tell you of abuse. She gave a phone number for reporting, 1-888-373-7888, shared this link for a video entitled "Can You Spot Human Trafficking in Your Neighborhood?", and said that volunteers for Lighthouse for Life are always welcome.
After the presentations, Lisa Smith thanked our program contributors stating how enlightening the information was and announced that Greenwood Women Care would be donating two books, Song of Creation and The Fabled Life of Aesop, to the Greenwood County Library children's collection in their honor.
Edris Louise Robinson recognized Catherine DiBenedetto, Communications Committee Co-Chair, who reminded everyone to RSVP within their evite invitations to our gathering.
Mary Woodiwiss, Co-Chair of the Advisory Board, thanked all the Zoom attendees, presenters, and guests, then gave several GWC announcements. She requested that Members look for an email next month containing links to a ballot for GWC officers, a few survey questions, and a 2020 GWC year in review video, and wished everyone a good evening.
A video of our meeting may be found here.
https://www.greenwoodcf.org/wp-content/uploads/2021/02/Settling-in.png
415
738
Mary Woodiwiss
https://www.greenwoodcf.org/wp-content/uploads/2016/11/gccf-logo-800.png
Mary Woodiwiss
2021-02-24 16:09:18
2021-10-20 11:34:18
GWC Quarterly Meeting, "Community in Crisis Response", February 23, 2021