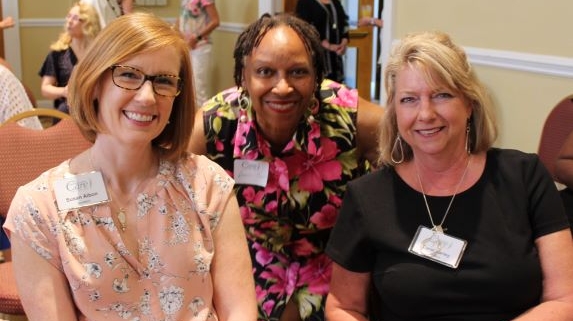 GWC Quarterly Meeting, "Arts in Action!", at The Arts Center, May 24, 2021
Greenwood Women Care enjoyed an uplifting and joyous time together on Monday, May 24. Our social reception and program, "Arts in Action!", was held in the Mays Reception Hall in The Arts Center.
We were greeted with four lovely selections presented by Palmetto Girls Sing! led by Amy Fennell and accompanied by Rodney Cleveland.  One of the selections was an original composition, "My Life is a Canvas," composed by Richard Williamson, Professor of Music at Anderson University, and accompanied by Cleveland and flutist, Rhonda McGinnis, Chair of GWC Governance & Finance Committee. Amy Fennell informed us that Palmetto Girls Sing! was formed in 2015 and is comprised of 4th – 8th grade girls. They have enjoyed numerous trips and activities, and during a 2018 trip to New York they performed at Carnegie Hall.
During the reception, we enjoyed delicious hors d'oeuvres and refreshing drinks. Carol Scales, Programs & Education Committee member, served as emcee for the program portion. Mary Woodiwiss, Chair of GWC's Advisory Board, offered a warm welcome to Members and guests as we celebrated our first in-person meeting in 15 months. She announced that 14 women have joined GWC this year and that Members currently number 125.
Carol Scales introduced our program presenters: Karen Jennings, Executive Director of The Museum and Railroad Historical Center, and Sylvia Martin, Executive Director of The Arts Center. The Arts Center and The Museum are free and open to the public.
Karen Jennings spoke about the value of The Museum's role in preserving local history and promoting learning opportunities. She announced that there will be a new permanent exhibit, premiering on June 10, that reflects Greenwood in the early 1900s. The Museum offers changing seasonal exhibitions, often including items on loan from community members in their exhibits and engaging volunteers in various capacities. Staff were thrilled to welcome over 10,000 guests to The Museum in 2019. The Railroad Historical Center has developed a partnership with the Greenwood High School Theatre department for their signature holiday program the "Polar Express". Major enhancements have been made to the full collection of train cars in this stationary exhibit and other renovations of the facility and grounds have been completed or are in progress.
Sylvia Martin, Executive Director of The Arts Center, has served in various roles there since 2010.  She noted that investing in the arts has enabled Greenwood to become a successful regional hub. The Arts Center stages 9-12 exhibitions a year and is predominately funded by grants. Exhibitions often include artists' talks and an opening reception for the public and, along with art programs and summer camps, are the heart and soul of The Arts Center. Sylvia and her staff continually look for ways to extend The Arts Center's reach to more corners of the community. The Arts Center is also a tremendous resource for Greenwood as a venue for weddings, seminars, and other community events.
Lisa Smith, Programs & Education Committee member, presented children's books contributed by GWC to the Greenwood County Library Children's Collection in honor of our three guest speakers: Amy Fennell, Karen Jennings, and Sylvia Martin. Deb Maschoff, Co-Chair of the Membership Committee, reminded our Members that committee involvement is optional, but very rewarding, and that home gatherings are a great way to introduce prospective members to GWC. The Membership Committee is ready to support any member who would like to host a home gathering. Laura Bachinski, Vice Chair of GWC and Co-Chair of our Social Committee, introduced a fun new feature, "Member Minute." Three members volunteered to speak impromptu at the close of the meeting by briefly sharing three facts about themselves. We enjoyed getting to know Summer Booker, Caroline Dennis, and Cindy Leary a little bit better. Edris Louise Robinson, Chair of the Programs & Education Committee, closed our meeting by thanking our speakers and committees and inviting everyone to our August meeting at Cokesbury College where we will greet our 2020 grant recipients and celebrate the progress they have made on their respective grants.
https://www.greenwoodcf.org/wp-content/uploads/2021/05/Susan-Angela-and-Carol.jpg
435
573
Mary Woodiwiss
https://www.greenwoodcf.org/wp-content/uploads/2016/11/gccf-logo-800.png
Mary Woodiwiss
2021-05-26 23:25:09
2022-03-25 17:23:18
GWC Quarterly Meeting, "Arts in Action!", at The Arts Center, May 24, 2021