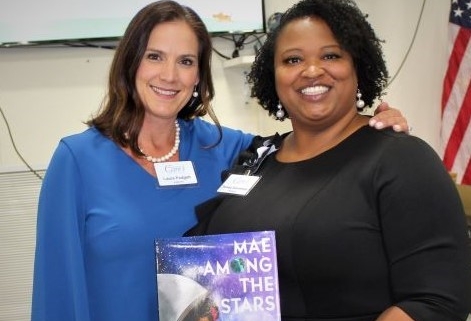 GWC Quarterly Meeting, "Focusing on Our Future – Our Children", at Burton Center, November 16, 2021
Fall was nipping the air when 40+ members and guests of Greenwood Women Care gathered at the Burton Center for the final Quarterly Meeting of 2021: "Focusing on the Future – Our Children." The lively group congregated in Jimmy B's Café for fellowship and delicious refreshments including sandwich wraps, a Greek-themed hors d'oeuvres tray, fruit, lemon flavored water, warm wassail-flavored punch, and other delights provided by the Social Committee.
At the appropriate time, all moved to a presentation area where Edris Louise Robinson, Chair of the Programs & Education Committee and Burton Center Day Program Director, welcomed everyone and gave a clear introduction to the work of the Burton Center. All services are provided at no cost to individuals who have disabilities and special needs and their families and are designed to help these individuals discover opportunities to mature, grow, and reach their full potential.
Mary Woodiwiss, GWC Advisory Board Chair, offered a warm greeting to all members and guests. She shared a story of how one 2021 GWC grant is already being put to use and noted that each grantee will have stories to share about how their GWC Grant helps them to fulfill their mission in our community in significant ways. Mary reminded everyone that their membership renewal packets were delivered last week and urged us to let our annual "renewal in GWC become a given". She also spoke about how we must rebuild our Granting Fund every year and asked us to consider making an additional contribution to the Granting Fund, in any amount, with our renewal or at a later time. Such contributions may be made in memory or honor of someone. Our grants are possible only due to the commitment and generosity of GWC members.
The introduction of our program theme, "Focusing on the Future – Our Children", was given by Lisa Smith. Mamie Nicholson graciously introduced our speakers. Our first presenter, Jerry Rentz, board member of Emerald City Rotary Foundation, informed us about the Dolly Parton Imagination Library (DPIL). He reminded us that literacy does not start when children begin school. He also shared statistics about why childhood literacy is so important, including the fact that 85% of all juveniles who interface with the juvenile court system are functionally low literate. DPIL provides registered children with high-quality, age-appropriate books by mail every month from birth until they reach their fifth birthday. Jerry was thrilled to share that the 2020 GWC Grant awarded to Emerald City Foundation provided one year of books to 200 children. To date, 1,286 children in Greenwood have signed up to participate in the program and 35,000 books have been sent to children in our county. At the end of Jerry's presentation, Laura Padgett, Programs & Education Committee member, presented the book Little People, Big Dreams: Evonne Goolagong in his honor on behalf of GWC. This title will be added to the Children's Collection at Greenwood County Library.
Teresa Goodman, GWC member and Executive Director of Community Initiatives, began her presentation by thanking GWC for the grant awarded to fund their prenatal care clinic which will provide countless low-income mothers with the quality care all women deserve. She discussed the new Toddler Learning Center (TLC), slated to open its doors in 2022. This program is designed to provide quality care for toddlers ages 2 to 4 from low-income families while teaching parents developmental milestones and activities to be sure their child develops at their highest potential and are ready for school. Children who take part in early childhood education programs have improved social skills and perform better in school. They also learn essential life skills. Most importantly, preschool is a place where children have fun in a safe and loving environment. Additionally, the center will assist with providing transportation to job sites for parents and facilitate connection with other necessary services to aid families in developing self-sufficiency. Laura Padgett presented the charming children's book, Mae Among the Stars, to be donated to Greenwood County Library in Teresa's honor.
The evening continued with an announcement from Laura Stowe, Co-Chair of the Communications Committee, about the GWC History Project. Laura stated that in January 2022, this committee will begin a project that will comprise the five-year history of Greenwood Women Care. She requested that members submit pictures, comments, or memories they might have of GWC to her or any member of the Communications Committee.
Laura Bachinski, GWC Advisory Board Vice Chair, made closing remarks asking members to consider contributing a gift membership. She noted that 8-10% of our members benefit from partial or full gift memberships and that most of these have been contributed by supporters from outside our membership. Laura reiterated the importance of growing our membership so that substantial grants may be awarded to continue the mission of GWC. Laura ended the meeting with a challenge: she pledged to contribute a gift membership in 2022 year and encouraged others to consider doing the same!
https://www.greenwoodcf.org/wp-content/uploads/2021/11/Laura-presents-a-book-in-honor-of-Teresa-Goodman-Toddler-Learning-Center-2.jpg
358
471
Mary Woodiwiss
https://www.greenwoodcf.org/wp-content/uploads/2016/11/gccf-logo-800.png
Mary Woodiwiss
2021-11-18 22:32:00
2022-03-25 17:26:12
GWC Quarterly Meeting, "Focusing on Our Future – Our Children", at Burton Center, November 16, 2021