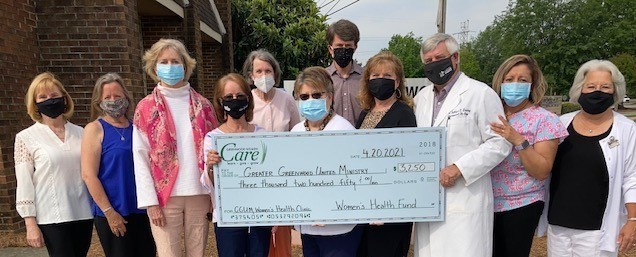 GGUM Final Report on the 1st GWC Women's Health Grant
Forty-four percent, (44%-approximately 220) of the GGUM Free Medical Clinic's patients are women. Services of the clinic are available to anyone who cannot afford health insurance yet does not qualify for Medicaid or Medicare. The GGUM Women's Health Clinic focuses on the episodic health issues presented and offers prevention strategies to improve the quality of life for the women served. The GGUM Women's Health Clinic specifically promotes the prevention of breast and cervical cancers.
Breast cancer is a leading cause of cancer death among women in the United States. Clinical breast examinations and mammograms can detect changes such as tumors and calcifications. The gynecologists of the GGUM Women's Health Clinic perform clinical breast exams and screening mammograms are scheduled as recommended by the American College of Obstetricians (ACOG). The Self Regional Healthcare Mobile Mammography Unit visits GGUM quarterly providing screening mammograms to their female patients over 40.  Referrals for diagnostic mammograms are done as needed. Since the first Women's Health Clinic in March 2021, four women have been referred for diagnostic mammograms with one having follow up on a questionable tumor.
Pap screenings are instrumental in detecting cervical cancer. Early detection of cervical cancer makes it one of the most successfully treatable cancers by removing or destroying the pre-cancerous or cancerous tissue. GGUM Gynecologists perform Pap and HPV screenings during clinic visits. There have been three cases of HPV detected and patients are receiving appropriate treatment.
Since the inception of the GGUM Women's Health Clinic in March 2021, over 35 women have been served and are now calling the clinic their medical home. As GGUM offers gynecological medical care to patients, the GGUM Free Medical Clinic is also addressing the needs of these women as needed. The GGUM on-site Pharmacy makes it convenient for patients to receive medical care, medications, and medical supplies in one visit at one place.
Most of the women served through the GGUM Women's Health Clinic have not seen a physician in a very long time. New patients receive health screenings (A1c, blood pressure, lipid panel, BMI, height, weight) on their first visit. This step enables the Gynecologist to assess their overall health and wellness and provide the clinical breast exam and Pap and HPV screenings.
The GWC Women's Health Grant provided funding for critical medications and medical supplies for the women served through the clinic and disposable instruments being used by the Gynecologists.
We are so grateful to the GWC for choosing us to receive this grant! Together, we are making a difference in the lives of women in our community to provide help for them take care of themselves.
Rosemary Bell. Executive Director of Greater Greenwood United Ministries
https://www.greenwoodcf.org/wp-content/uploads/2021/09/GWC-Womens-Health-Grant-award-photo-2.jpg
257
636
Mary Woodiwiss
https://www.greenwoodcf.org/wp-content/uploads/2016/11/gccf-logo-800.png
Mary Woodiwiss
2021-08-02 16:50:18
2021-10-20 11:38:10
GGUM Final Report on the 1st GWC Women's Health Grant