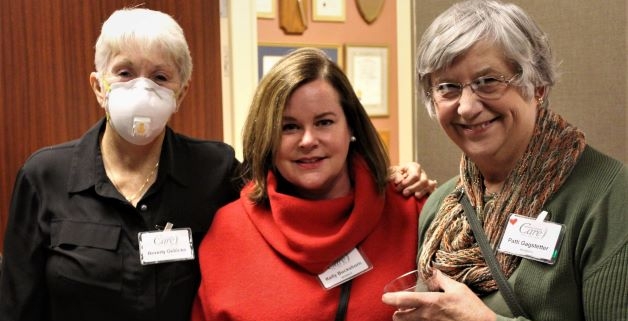 GWC BYOF Social, "Bring Your Own Friend", at The Greenwood Building, January 18, 2022
The foyer of the Greenwood Building rang with the laughter of old friends greeting each other and new friends meeting. Greenwood Women Care's first social of 2022 on Tuesday, January 18th was a rousing success. Nearly fifty women braved the blustery wind to gather and enjoy the company of like-minded women of our community.
Delicious refreshments of pinwheel sandwiches, cookies, fruit, and cheese and crackers were provided by our Social Committee. Four wines were served along with non-alcoholic punch and water.
After time to share conversations throughout the suite of rooms, Laura Bachinski, Co-Chair of the Social Committee, directed us into an attractive conference room. Laura welcomed everyone and introduced Lesley Lane, the Executive Assistant to the President at Greenwood Communities and Resorts. Lesley is the managing agent for the Greenwood Building and serves as Chair of the Uptown Greenwood Development Board. Lesley welcomed us to this space and informed us of new activities and businesses in Uptown Greenwood. Mary Woodiwiss, Chair of the Advisory Board, gave a special welcome to our newest members and our guests. She said that GWC welcomes guests as often as they would like to attend our Socials and Quarterly Meetings, without limit. Deb Maschoff, Co-Chair of the Membership Committee, noted that GWC accommodates a range of involvement from its members, as each member determines her level of participation in meetings and committees. Deb reminded us that contributions to GWC are fully tax-deductible. She also highlighted our strength in numbers when we pool our annual contributions to become impactful grants to nonprofits in our community.
The social evening continued in good cheer and excellent company. We look forward to our 1st Quarterly Meeting of the year at the Boys & Girls Clubs of the Lakelands' Starz 24 Teen Center on February 22.
https://www.greenwoodcf.org/wp-content/uploads/2022/01/Bev-Kelly-and-Patti.jpg
417
628
Mary Woodiwiss
https://www.greenwoodcf.org/wp-content/uploads/2016/11/gccf-logo-800.png
Mary Woodiwiss
2022-01-20 17:18:04
2022-03-25 17:26:45
GWC BYOF Social, "Bring Your Own Friend", at The Greenwood Building, January 18, 2022