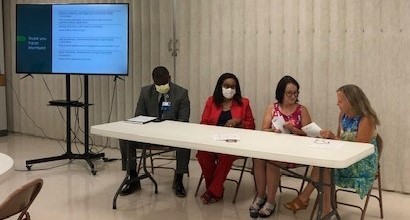 GWC Grant Writing Workshop, "Grant Writing 101", July 26, 2022
GWC hosted our annual workshop, "Grant Writing 101", on Tuesday, July 26. The workshop was offered at no charge to 20 registrants from local nonprofit staff and volunteers. West Side Baptist Church generously provided the meeting space.
Christopher Timmons, Associate Pastor of West Side Baptist Church, warmly welcomed all workshop participants and presenters. Mary Woodiwiss, Chair of GWC's Advisory Board and member of the Grants Review & Awards Committee, extended GWC's welcome and made introductory announcements.
Workshop sessions were conducted by Jan Puzar, Kathy Emily, and Donna Foster, GWC Members who are professionals in program direction, grant writing, and assessment. These presentations included discussion of a homework assignment to help participants focus on their organization's funding priorities, writing an effective grant proposal, and outcome measures for assessment of a program or project.
Following the three workshop sessions, we enjoyed a break for coffee and bagels.
The workshop also featured a Funders Forum comprised of representatives of local granting organizations. Each spoke about the granting process, funding priorities, and other aspects of their grantmaking as well as responding to workshop participants'' questions. Presenters were: Selynto Anderson, Self Regional Community Health; Mamie Nicholson, Self Family Foundation; Sally Kauffmann, Greenwood Women Care; and Mary Woodiwiss, Greenwood County Community Foundation.
This training provided attendees with fundamentals for improving their grant application practices, whether for GWC Grants or requests made of other local or external funders. GWC's Grants Review & Awards Committee believes that Grant Writing 101 is a valuable way to be of service to our local nonprofits as they carry out their missions for the benefit of our whole community.
https://www.greenwoodcf.org/wp-content/uploads/2022/08/Funders-Forum-edited.jpg
220
410
Mary Woodiwiss
https://www.greenwoodcf.org/wp-content/uploads/2016/11/gccf-logo-800.png
Mary Woodiwiss
2022-08-01 02:00:28
2022-09-28 13:25:00
GWC Grant Writing Workshop, "Grant Writing 101", July 26, 2022