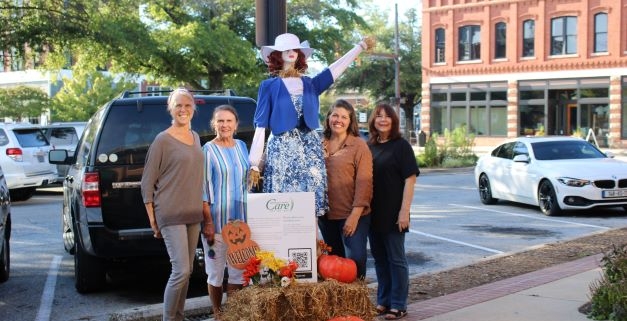 GWC Debuts Ms. Carey Givings, September 27, 2022
Ms. Carey Givings, our GWC scarecrow, LIVES! She is on display in Uptown Greenwood as part of this year's Annual Scarecrow Contest.
Please pay Carey a visit! She is located on Main Street by Uptown Family Practice. And consider honoring her (and GWC) with your "favorite scarecrow" vote. Online voting will take place on the Uptown Greenwood Facebook page beginning at 10:00 am on October 3 and continuing through midnight on October 31. Cast your vote by "liking" the photo of our entry. If you take your photo with Carey, tag #uptownscarecrows and #GWC.
The GWC scarecrow is a GWC Communication Committee project initiated by Rachel Strayer. The decision to name our scarecrow Ms. Carey Givings was a nail biter. The Communications Committee vote resulted in a tie, so we took it to the Executive Committee and finally, our GWC scarecrow had a name.
Early in the process, Debra Coleman supplied her fetching outfit, complete with blue stiletto heels! Catherine DiBenedetto created her frame and offered her farm for the padding, dressing, and "strawing" of the lovely Ms. Givings. On Monday, September 26, Membership Committee members Sandy McCord, Rachel Strayer, and Laura Stowe joined Catherine for a lovely evening of scarecrow creation on Catherine's farm, fueled by snacks and beverages provided by Laura. Sandy applied the last finishing touch, her expertly painted lips!
On Tuesday, September 27th, the quartet met again to install Carey in her assigned spot and Rachel completed the process by adding the GWC informational sign she designed and created to inform Greenwood about the mission of GWC.
We hope Ms. Carey Givings will be our Uptown ambassador, encouraging many other women to join us in GWC as we care for Greenwood and give for the benefit of our whole community!
https://www.greenwoodcf.org/wp-content/uploads/2022/09/Ms.-Carey-Givings-goes-Uptown-with-Catherine-Sandy-Rachel-and-Laura.jpg
418
627
Mary Woodiwiss
https://www.greenwoodcf.org/wp-content/uploads/2016/11/gccf-logo-800.png
Mary Woodiwiss
2022-09-29 17:25:11
2022-09-30 11:26:35
GWC Debuts Ms. Carey Givings, September 27, 2022